This is a kit I recently completed and I thought it would be good for Valentine's day coming up.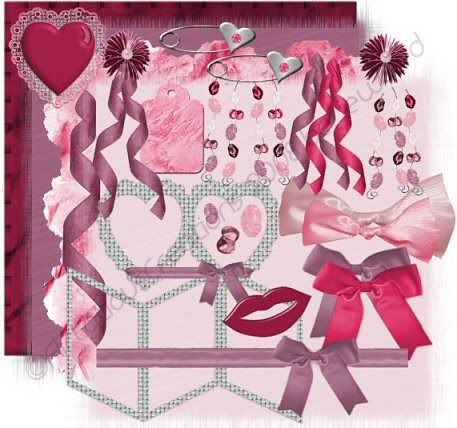 There are
4 papers,
2 stapled curl ribbons,
1 large curl ribbon
1 fluer type thing..lol.and
another with curl ribbons attached
1 plain saftey pin
1 saftey pin with strands of beads wired to it,
3 seperate wire strands of beads,
1 tag
2 knots
2 bows
2 jeweled frames
3 single beads
1 laced heart
lips to top it off
DOWNLOAD: HERE

Ok the next thing I have to work on is better previews... I had good ones, but they were too big for the blog-messed up the page. I used the resize in photobucket which limits you to the size. Hopefully will be better with the next preview...
Enjoy♥
and please leave some love if you download the kits
2 comments:
Maria said... February 6, 2008 at 2:52 AM

Thank you! The DigiFree Digital Scrapbooking freebie search engine is going to list this blog post today.  

daftdeb said... February 24, 2008 at 1:49 PM