PLEASE remember: these kits and/or elements are for PSP taggers.They are not meant for regular layouts. all files 600x600, 200dpi, PNG format Thank you ♥

Sorry it's been so long. My spine injury unfortunately is worsening and with the increase in pain , I can not spend as much time at the computer as I would like to.

I finally was able to do a kit- It's a mini kit to me, because it's not quite as much as I usually put in the kits..lol.
Hope you all enjoy this freebie.

Preview is smaller then actual size.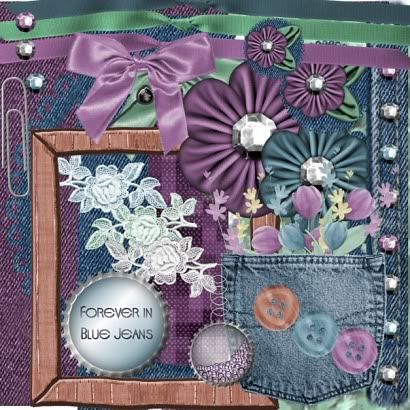 kit contains:
4 papers- blue jean, purple jean, purple pattern, green shades pattern
1 wood frame
1 round jean frame
1 bottle cap- with "forever in blue jeans " words
1 glass dangle charm filled with beads
1 Jean pocket filled with flowers
1 paperclip
1 jean ribbon with gems
3 single gems, silver, bluem purple
2 bows- green and purple
3 knotted ribbons, green, blue,purple
3 lace roses, white, blue ,green
3 buttons, wood, blue, purple
2 fabric flowers- one large in purple one smaller in blue
2 fabric flowers apliques- one large, one smaller

Download HERE





5 comments: